WANT TO JOIN THE SWAT ARMY OF CLUB PENGUIN?
JOIN US FOR FREE GIVEAWAYS & LOTS OF FUN!
⇓

⇓ 

JOIN OUR DISCORD SERVER HERE ⇓⇓
❗ SWAT IS BACK & READY TO GO!

 

❗
MAKE SURE YOU REGISTER ON THE NEW CLUB PENGUIN ARMY SERVER! LINK IS BELOW ⇓⇓⇓⇓
Once you have clicked the link above and joined our discord, you are officially a SWAT Agent!
We are Club Penguin Army run by the Admins of Club Penguin Armies: The Game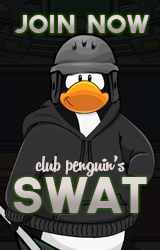 Filed under: SWAT Army | Tagged: Club Penguin SWAT, CP SWAT, SWAT, SWAT Army CP, SWAT Army of Club Penguin, SWAT of CP, swat of cpo, SWAT Rulers, swat rulers army, swat rulers of cp | Leave a comment »