WANT TO JOIN THE SWAT ARMY OF CLUB PENGUIN?
We have massive battles, events, raids and giveaways! We need more people to grow into a stronger team.
⇓

⇓

JOIN OUR DISCORD SERVER HERE ⇓⇓
We are a Club Penguin Army run by the official SWAT of Club Penguin Leadership.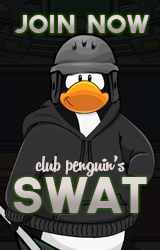 Filed under: SWAT Army | Tagged: Club Penguin SWAT, CP SWAT, SWAT, SWAT Army CP, SWAT Army of Club Penguin, SWAT of CP, swat of cpo, SWAT Rulers, swat rulers army, swat rulers of cp | 1 Comment »